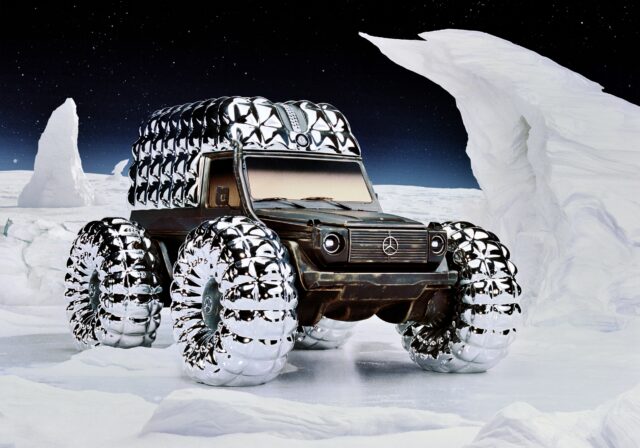 PROJECT MONDO G è un'opera d'arte unica che unisce l'iconica Classe G e gli elementi di design distintivi di Moncler, realizzata da Mercedes in collaborazione con Moncler ed esposta al live show "The Art of Genius" a Londra.
Ambientato in un ambiente ultraterreno, il momento di rivelazione "The Art of Imagination" presenta l'opera d'arte come una nuova creazione di eccezionale design automobilistico e della moda.
PROJECT MONDO G ricrea l'iconica Mercedes-Benz Classe G con i codici di design distintivi di Moncler fondendo le caratteristiche della Classe G con il piumino Moncler. L'opera d'arte è stata svelata in anteprima alla sfilata Moncler "The Art of Genius" durante la London Fashion Week.
Ospitato da Moncler, Mercedes-Benz è schierato con marchi e artisti, come Alicia Keys, Pharrell Williams, Adidas Originals, FRGMT, Salehe Bembury, Palm Angels, ROC NATION di Jay-Z.
Moncler lancia una nuova visione di Moncler Genius attraverso un coinvolgente evento live all'Olympia di Londra. Trasformare il suo modello di collaborazione in una piattaforma per la co-creazione in diversi nuovi settori tra cui arte, tecnologia, sport, musica e design.
Mercedes-Benz e Moncler condividono la passione per l'innovazione, un linguaggio di design conciso e un approccio pionieristico alle collaborazioni interculturali. Questi valori e attributi definiscono entrambi i partner, che ora si sono riuniti per mostrare le opportunità creative e dove può portarti la fusione dei due mondi dei marchi.
Il tema "Art of Imagination" è un messaggio ispiratore per sognare in grande ed esplorare i propri primati: aprire nuovi orizzonti, mettere a portata di mano l'impossibile e scoprire senza limiti.
L'opera d'arte collaborativa PROJECT MONDO G segna la prima partnership automobilistica di Moncler.
"Siamo molto entusiasti di collaborare con Moncler per creare un altro X-factor brand moment", ha dichiarato Britta Seeger, membro del consiglio di amministrazione di Mercedes-Benz Group AG, responsabile marketing e vendite, "e in Mercedes-Benz, ci impegniamo nella cultura e nella società. La nostra co-creazione con Moncler offre un'esperienza inaspettata di entrambi i marchi. Questa prima collaborazione con Moncler apre nuovi orizzonti e un potenziale di opportunità per ulteriori novità in arrivo".
PROJECT MONDO G: Arte iconica
L'opera d'arte progettata in esclusiva per la collaborazione di Mercedes-Benz e Moncler fonde le caratteristiche dell'iconico fuoristrada Mercedes-Benz Classe G con il piumino Moncler che ne definisce lo stile. Il risultato è un contrasto spettacolare, con il design spigoloso della Classe G e le linee morbide e fluide del tessuto trapuntato, elementi inconfondibili e inimitabili con la funzionalità al centro. Entrambi i prodotti si sono trasformati in articoli lifestyle di grande valore e lusso negli ultimi decenni.
La fusione degli opposti dà origine a un oggetto scultoreo: PROJECT MONDO G invita a sperimentare la trasformazione di un oggetto precedentemente puramente funzionale in un oggetto di design. Le sue dimensioni impressionanti sono: 4,6 m di lunghezza, 2,8 m di altezza, 3,4 m di larghezza (con le ruote) e 2,5 tonnellate di peso. Uno sguardo più attento rivela ulteriori tratti caratteristici che hanno un legame concreto con i prodotti originali e creano inoltre contrasti emozionanti: la patina ruvida è la traccia visibile dell'uso, che rimanda a funzionalità e
praticità. Questo inoltre definisce il contrappunto visivo alle superfici riflettenti perfette e lucide che sono alla base della pretesa di lusso.
Né è un caso che PROJECT MONDO G rechi l'enorme cerniera lampo, altro elemento volutamente appariscente e vistoso. La cerniera è un riferimento pratico alla versatilità e alla variabilità di entrambi i prodotti, veicolo e giacca.
"La collaborazione con Moncler ci ha ispirato a creare una vera e propria scultura iconica su ruote", ha dichiarato Gorden Wagener, Chief Design Officer Mercedes-Benz Group AG, "che risulta al tempo stesso una dichiarazione di design molto audace: il nostro PROJECT MONDO G. Basato sulla nostra filosofia di design Sensual Purity, questo pezzo d'arte fonde forme e superfici estremamente contrastanti: materiali lucidi di veicoli spaziali con un aspetto patinato usato; in pratica la fusione della marcata geometria della Classe G con le forme organiche dei piumini Moncler. Due forti marchi di lusso offrono una nuova straordinaria esperienza unendo il mondo automobilistico e quello della moda uniti in un unico pezzo".
La campagna "L'arte dell'immaginazione"
PROJECT MONDO G è la showcar protagonista della campagna che accompagna la creazione di Mercedes-Benz e Moncler con social media, out of home (OOH) e risorse di PR per un'ampia attivazione globale.
La visualizzazione mette in scena un paesaggio invernale ultraterreno ispirato ai temi principali della resistenza all'aria aperta e alle infinite opportunità di scoperta con il fuoristrada G-Class come base di PROJECT MONDO G e il piumino di Moncler.
Il look and feel è un universo immaginario a bassa gravità che interpreta l'opera d'arte con momenti fashion da modelle che indossano look concettuali disegnati con capi della collezione Moncler.
La scenografia della campagna rispecchia l'opera d'arte rivelata alla mostra "The Art of Genius", che presenta la capacità della Classe G e del piumino Moncler di resistere anche nelle condizioni più difficili.
La campagna è stata scattata dal famoso regista e fotografo Thibaut Grevet.
GUARDA LA GALLERIA